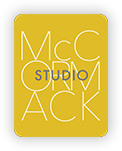 JENNY LEE
Newport Beach, CA – 2,153 square feet
Desiring a distinct, highly-creative design for her first flagship store, the up and coming bridal/evening wear designer, Jenny Lee contacted
STUDIO

McCORMACK
. Their challenge was to create a sophisticated, welcoming space that could stand on its own but not overshadow the clothing. In addition the design had to be easily recreated in other locations as the business expanded.
A prominent existing structural column was used as the center point around which the dressing rooms radiate. To further highlight this element it terminates at the center of a dome which is covered in a glass beaded wall covering and accented with a light cove. Surrounding the column where it penetrates the dome is a curtain of crystals illuminated from above. The trunk of the column is covered in a quilted wall covering that is reminiscent of the fabric used in the clothing on display.
The walls of the space are finished in a gray/beige color that gives the store an overall neutral palette against which the clothing is prominently displayed. A wood floor was installed to give the space a 'gallery' feel but a distressed finish was selected to create a sense of warmth. Floor to ceiling drapery was used to define the dressing rooms and compliment the fabric used in the clothing.